Adventure Time at Cote Ghyll Mill
Posted on 20 Dec 2018 in Activities & Attractions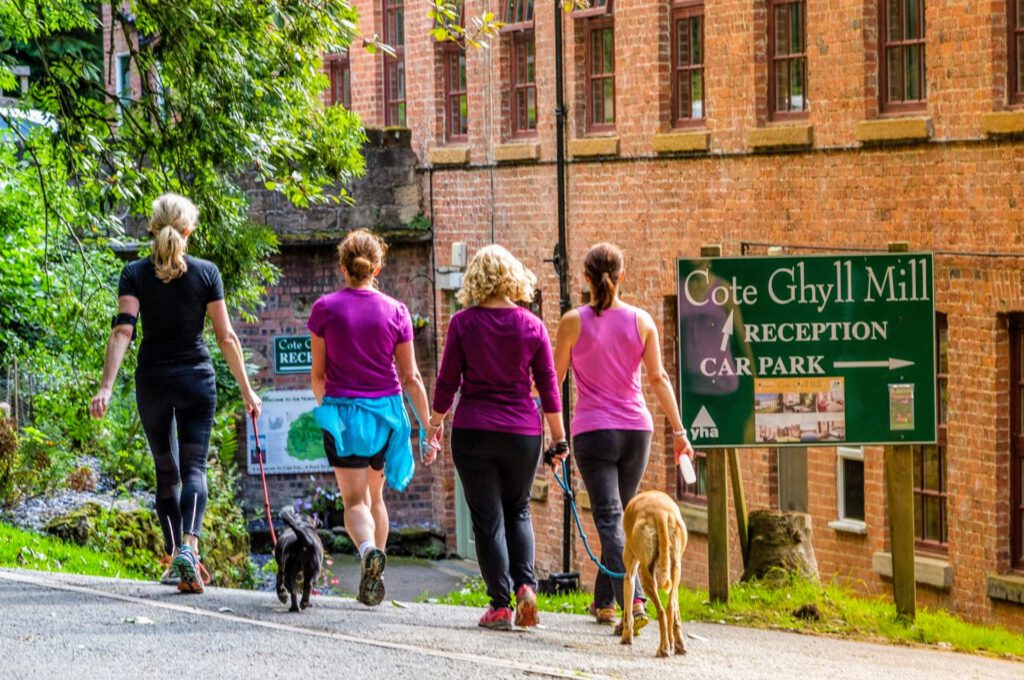 Situated in the beautiful North Yorkshire countryside, Cote Ghyll Mill is YHA approved and offers fabulous group accommodation for all ages. The Cote Ghyll Mill is located next to the Cote Ghyll camping and caravan site and alongside the spectacular cottage and holiday caravans. Surrounded by beautiful countryside, Cote Ghyll Mill is a fantastic location where you can enjoy country walks, cycle routes, and nature trails. Whether you are a school group, family, or a large gathering, Cote Ghyll Mill have some great adventure facilities for you to enjoy during your stay.
‍
With newly refurbished en-suite rooms and enough space to accommodate 61 people, Cote Ghyll Mill is a fantastic place for both families and large groups to visit. Awarded four stars by Visit England, our fabulous facility is suitable for groups to come and enjoy the scenery, socialise, and explore the countryside. With car park, free WiFi, lounge, and catering facilities, you will thoroughly enjoy your stay here at Cote Ghyll Mill. Take a further look at our accommodation, food and drink, and recreational yorkshire youth hostel facility that we have available here at Cote Ghyll Mill.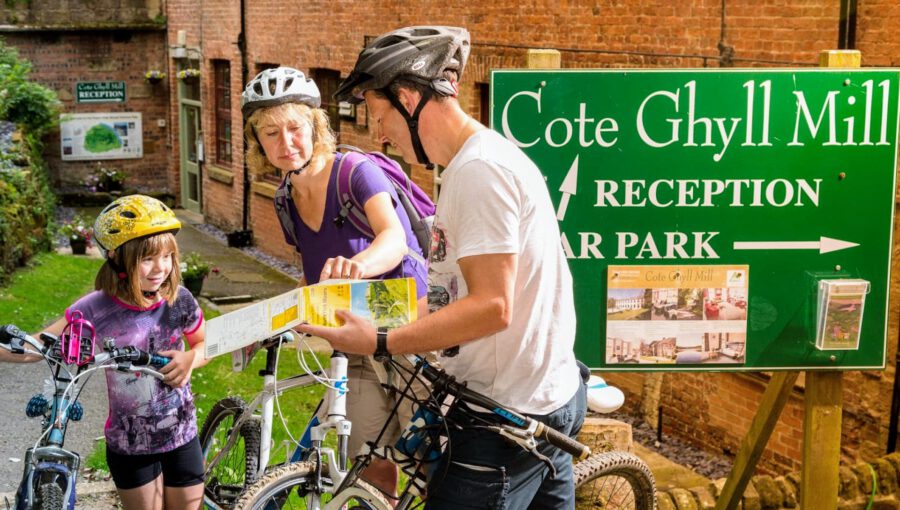 North Yorkshire Group Activities
No matter which budget you have, we have a great adventure experience waiting for you here at Cote Ghyll Mill. In our North Yorkshire facility we have plenty of fun-filled activities for you to enjoy! Most of our activities are easy to reach on foot and give you a fabulous view of the beautiful North Yorkshire scenery.
Cote Ghyll Mill have plenty of footpaths, cycle paths, and guided walks for you to explore the sights around Osmotherley. From nature trails to stargazing we have plenty of fun for the whole family to enjoy. For children and school groups we even have fantastic campfire, bushcraft, and shelter building areas for adventure activities. With an activity provider you can enjoy even more activities with canoeing, abseiling, archery, and much more.
If you are a lover of walking, hiding and exploring all day, even in bad weather,  Cote Ghyll Mill has an excellent drying room facility that can help you dry off. For cycle groups, our site also has a secure cycle store where you can safely store your bikes during your stay.
Our Group Accommodation
Looking for a great adventure trip for the family? Then Cote Ghyll Mill is also perfect for individuals and family groups to visit. Whether you are interested in cycling, exploring the countryside, or hiking through the area, Cote Ghyll Mill is a great location for you. No matter which size group you are coming with we have rooms that can fit two, four, or even six people.
‍
Outdoors you can enjoy observing the wildlife, exploring the local area and the beautiful North York Moors. Once the day is over and you need to keep the little ones entertained there are also plenty of activities to enjoy indoors too. In our games room we have plenty of books, toys, and games for children to enjoy. For the adults we even have a bar that you can visit on the evening after your long day outdoors.
Suitable for all age groups, Cote Ghyll Mill is open all year round. Whether you want your stay catered or self-catered our team can accommodate your needs. We have recently refurbished en-suite bedrooms that are able to suit groups of up to 61 people. We even have a lounge, games/TV room, and a bar for everyone to enjoy.
‍
If you are part of an educational group we have some great grounds and even a waterfall for you to explore. If you are in need of some extra learning space then we also have a well-equipped meeting room for you to use. Our superb meeting room has tables, chairs, whiteboards, and even comes with tea and coffee making facilities.
If you are organising a school trip away then Cote Ghyll Mill is a fabulous place for children to learn, play, and explore. Here they can explore the outdoors and visit the Old Mill waterfall and the Cod Beck stream. There is also plenty of outdoor space for learning activities as they can enjoy the bushcrafts and campfire where they can socialise and enjoy toasting marshmallows. We even have excellent catering facilities where children can enjoy hot home-cooked meals and breakfast buffets. For those long days out exploring we can also provide packed lunches too. If you are looking for indoor entertainment then children can also enjoy relaxing in our lounge and our games/TV room too.
‍
At Cote Ghyll, we have the perfect space which is modern and warm allowing meetings to run smoothly and a safe place that groups can use when they come to Cote Ghyll Mill. With space for chairs, desks, and projector, our meeting room makes a perfect classroom for educational groups. We even have tea and coffee making facilities too to help warm you up after a long day outdoors. When learning time is over, our meeting room/classroom can also be a great venue for a school disco or tuck shop!
When arranging a special occasion or a big celebration, Cote Ghyll Mill is the ideal place for a group gathering. Whether you are part of a large group, family, or club, we have the best facilities for you to have a fun-filled time away from home.
Based in the beautiful North York Moors, our facility is available to hire exclusively for your group.
‍
Our newly refurbished bedrooms are en-suite and can sleep up to 61 people. To help cater for your group gathering we are also able to cater for everyone as well. If you and your guests would prefer to cook yourself then you are also free to use our self-catered kitchen as well.
Located just ten minutes from Osmotherley, you and your group can walk into the village to explore the pubs, shops, and tearooms.
Explore the local area
Near to our Cote Ghyll Mill site, there is a wide range of outdoor activities that you can enjoy on your stay. From cycling and hiking, to horse trekking and golfing, there are many locations close by that you can explore. For exciting days out you can enjoy the Captain Cook Museum, Lightwater Valley, and York Dungeons. Here are just some of the exciting places that you can visit in the North Yorkshire area:
Roseberry Topping
Located just ten miles away from Cote Ghyll Mill lies the iconic landmark of Roseberry Topping. Known for its distinctive shape, Roseberry Topping is an exciting place for everyone to visit. Whether you are exploring the scenery or climbing to the summit, Roseberry Topping will give you a spectacular view of Cleveland and North Yorkshire.
Cod Beck Reservoir
Surrounded by beautiful woodland, the stunning Cod Beck Reservoir is just a ten minute walk away from the Cote Ghyll Mill site. Hidden amongst the trees the reservoir circuit is a great place for groups to hike or cycle around. Take your group to explore around the Cod Beck Reservoir and take in the fantastic views of Osmotherley.
The Cleveland Way
If you are up for a challenge, then hiking the full route of Cleveland Way is sure to be an adventure for you. This 110 mile walk gives you spectacular views of the countryside as you walk from Helmsley to Filey across the beautiful North York Moors. This outing is perfect for everyone who wants to explore and enjoy the beautiful countryside scenery.
Mount Grace Priory
Located just one mile away, Mount Grace Priory is the best preserved Carthusian Priory in Britain. When staying at Cote Ghyll Mill, you and your group can explore these amazing 600 year old ruins together. There is much to see and do such as visiting the unique medieval priory, the manor house, and the beautiful gardens.
Book online today to book a stay at our fabulous Cote Ghyll Mill site. Whether you are coming to walk around Cod Beck Reservoir, explore the North York Moors, or to simply sit by our campfire, your stay will be an exciting adventure for you.